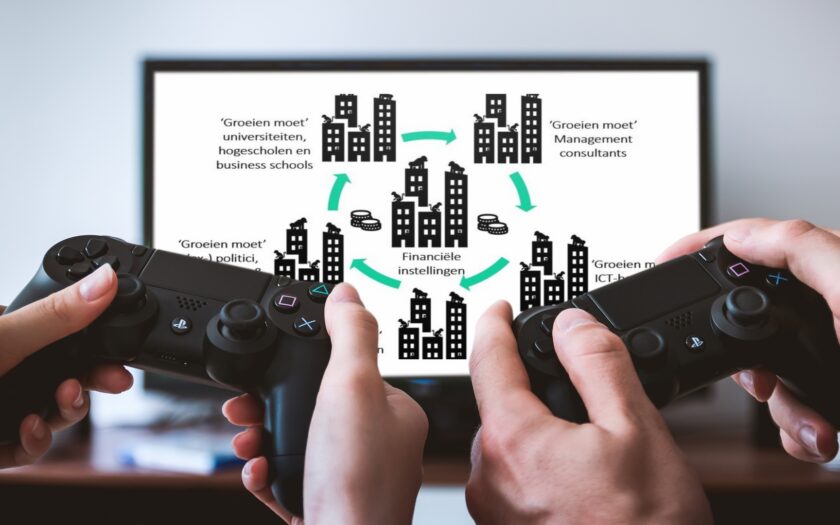 Introductie.
Morgen,
hoe gaat het? Deze week leg ik samen met 3 intrapreneurs en meer dan 22 visie- en verhaal gedreven ondernemers in veel verschillende takken van sport waaronder de landbouw, de bouw en de Zorg de laatste hand aan 'Groeien zonder te groeien. Succesvol ondernemen in de betekeniseconomie'.
Een van de dingen waar ik me sinds 2001 toen ik met mijn online plan-b met mijn virtuele eenmanszaak begon online geld te verdienen en helemaal sinds het begin van de coronacrisis enorm over verbaas is waarom bepaalde mythes zo halstarrig zijn en dat geldt zeker voor de mythe van 'Groeien moet'. Vaak in combinatie met 'Schulden maken moet' en 'Extern financieren moet.  
Het antwoord is al heel lang duidelijk:
"Het is een enorme 'Groeien moet' industrie waar veel geld in omgaat".
Meer: [TIP]: Koop geen 'groeien moet managementboeken meer' & '[Tip]: Volg geen geen gratis 'groeien moet webinars'
Wat is de 'Groeien moet' industrie?
De vraag is wat de oude normaal 'Groeien moet' industrie is. Hier is mijn definitie uit 'Groeien zonder te groeien':
De 'Groeien moet' industrie bestaat uit personen en (grote) bedrijven die op verschillende manieren veel geld verdienen aan het in stand houden van het dogma van het oude economische model van 'Groeien moet' en 'schulden maken moet' als 'enige economische model' .
Mijn oude senior manager bij ABN Amro Corporate IT Strategy zou zoals te lezen is in 'Dagboek van een bankier' zeggen: 'Ze hangen allemaal aan de tiet'. Grof uitgedrukt, maar goed beschouwd is het wel zo, toch?
Het 'groeien moet' economisch model is de basis van ons huidige financieel-economische systeem dat nu aan het vastlopen is.
Een ander financieel-economisch systeem.
De praktijk laat zien dat er al lang een alternatief is, dat je namelijk prima kunt 'Groeien zonder te groeien' door bv je eigen virtuele eenmanszaak te starten of als startup of scale-up wenbaar te zijn en te blijven met je eigen vorm een virtuele organisatie.
We noemen dat 'Groeien zonder te groeien' met behulp van ICT of 'online groeien en schalen' door klein te blijven.
Als deze benadering je aanspreekt en je wilt concrete voorbeelden zien hoe succesvolle MKB-bedrijven en veel zelfstandige ondernemers dat zelfs tijdens corona doen online doen, volg me dan op Linkedin en deel jouw verhaal en jou kennis en ervaring rond succesvol duurzaam ondernemen.
Nog een prettige dag,
Tony de Bree