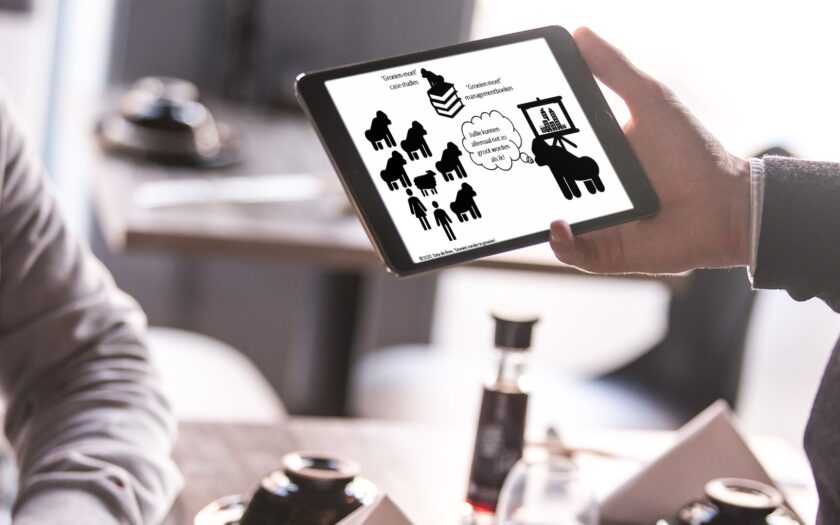 Introductie.
Goede morgen, hoe gaat het er mee?
Als er EEN ding belangrijk is grote corporate en voor ons als zelfstandige ondernemer om de Corona-crisis te overleven of als je bang ben om je vaste baan te verliezen, is dat je goed moet opletten waar je nu je kostbare geld, tijd en energie aan besteedt.
Mijn tip voor vandaag is: 'Volg nu geen gratis 'Groeien moet' webinars'.
Waarom niet? Omdat mensen en bedrijven uit het 'groeien moet ecosysteem' je ervan willen overtuigen dat er maar EEN manier is om te groeien en dat is door groter te worden, marktleider te zijn en door je vooral in de schulden te steken……via hun natuurlijk.
Een mooi voorbeeld daarvan is deze:
Mythe 1: je moet als bedrijf groeien en je moet een unicorn worden'.
De realiteit is dat dat helemaal niet 'moet', behalve van die mensen omdat ze zo geld aan je kunnen verdienen en eigenlijk samen in een soort collectieve 'gouden kooi' zitten.
Lees ook: 'Wat zijn 'groeien moet' managementboeken?' & 'Wat is de 'Groeien moetindustrie' in Nederland?'
Ook bij duurzame investeerders geldt inmiddels trouwens dat 'Unicorns zijn uit, zebra's zijn in'
De realiteit is dat je prima kunt 'Groeien zonder te groeien' met bv je eigen virtuele eenmanszaak of als je als startup of scale-up een eigen virtuele organisatie zonder te veel vast personeel en zonder onnodig management opzet en zo 'Lean' & 'Mean' blijft.
Echte succesvolle ondernemers gaan daarom uberhaupt al niet naar 'Groeien moet' events zoals ondernemers in 'De scale-up blueprint' al vertelden.
Waarom niet? Allemaal dingen waar je als startende ondernemer of als actieve ondernemer helemaal niets aan hebt en zeker niet nu.
Dus niet doen, ok? Je kunt je kostbare tijd, geld en energie wel beter gebruiken toch? om bv te kijken hoe jij de beste carriereswitch voor jou kunt maken of hoe jij je persoonlijke 'plan b' snel maakt.
Succes en houd je aan de 1,5 afstand, ok?
Tony de Bree
p.s.
Volg me op LinkedIn als je geen blog wilt missen, Skype me op tony.de.bree als je een van mijn boeken of eBooks hebt gekocht of een andere klant bent.