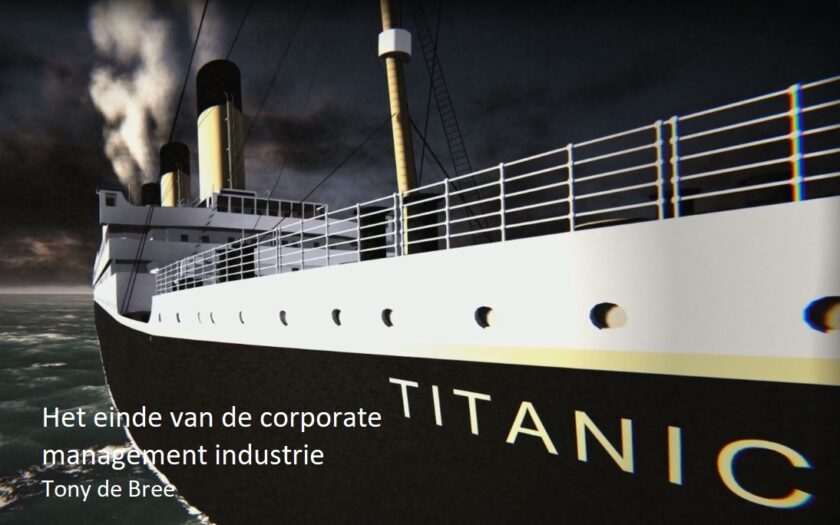 Updated: September 30, 2023
Goede morgen, hoe gaat het?
Ik weet nu of je het hebt opgemerkt maar steeds meer mensen beginnen zich te realiseren dat ze aan de 'corporate management industrie' en de 'groeien moet industrie' in de huidige overlevingsfase van grote bedrijven als KLM, als DGA van een MKB-bedrijf of zelfstandige ondernemer helemaal niets hebben.
De volgende oude normaal corporate management bedrijfstakken hebben te maken met acute vraaguitval en krabbelen moeizaam op:
corporate management business schools;
corporate leadership opleidingsinstituten;
corporate outplacement programma's;
corporate managementboeken waaronder over 'Lean' en 'Agile';
dure 'groeien moet' masterclasses en programma's;
mergers & acquisition programma's;
dure corporate management sprekers;
digital transformation experts etc.
En dat is logisch ook. Waarom? Omdat je aan al die oude modellen, theorieen en 'oude normaal' top-economen, digital transformation guru's etc niets hebt als je moet overleven en right sizen. Noch als ondernemer, noch als manager of medewerker met een 'Corona-baan'.
Meer: Wat is de 'groeien moet' industrie in Nederland? & 'Groeien zonder te groeien'.
Of je nu een executive, manager bij een grootbank van wie de baan op de tocht staat, of oprichter van een startup, directeur van een scale-up of CEO van een corporate bent: die 'corporate management' kennis en skills zijn in deze context waardeloos. je moet nu snel een plan-b hebben.
Ik zit na een moeilijk begin in maart in 'de reddingsboot' van mijn plan-b, van mijn virtuele eenmanszaak, en help zoveel mogelijk ondernemers en managers en medewerkers met hun overlevingsplan. Dus wees verstandig en besteed je tijd, geld en energie aan dingen die jou helpen en niet aan mensen en dingen die je nog meer in de problemen brengen.
Wees verstandig en besteed je tijd, geld en energie aan dingen die jou helpen en vergeet 'groeien moet'
Let's connect op LinkedIn. Je kunt me ook vragen stellen via Skype: tony.de.bree of via het contactformulier hier.
Nog een prettige dag.
Tony de Bree