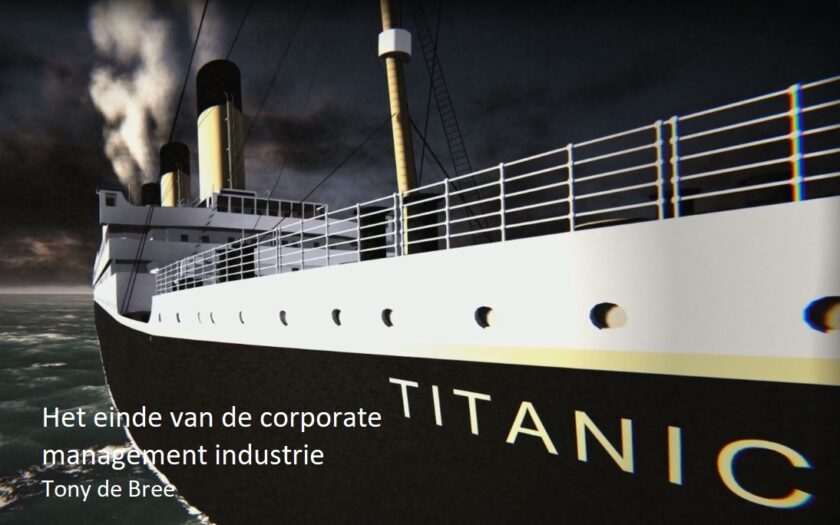 Goede morgen, hoe gaat het?
Ik weet nu of u het heeft opgemerkt maar steeds meer mensen beginnen zich te realiseren dat ze aan al die corporate management opleidingen, corporate leadership opleidingen, die corporate management boeken en nog veel meer onderdelen van de 'corporate management industrie' en de 'groeien moet industrie' in de huidige overlevingsfase helemaal niets hebben.
De volgende corporate management industrietakken hebben te maken met acute vraaguitval:
corporate management business schools;
corporate leadership opleidingsinstituten;
corporate outplacement programma's;
corporate managementboeken waaronder over 'Lean' en 'Agile';
dure 'groeien moet' masterclasses en programma's;
mergers & acquisition programma's;
dure corporate management sprekers;
digital transformation experts etc.
En dat is logisch ook. Waarom? Omdat je aan al die oude modellen, theorieen en 'oude economie' top-economen, digital transformation guru's etc niets hebt als je moet overleven.
Of je nu een executive, manager bij een grootbank van wie de baan op de tocht staat, of oprichter van een startup, directeur van een scale-up of CEO van een corporate bent: die 'corporate management' kennis en skilss is in deze context waardeloos.
'Corporate management modellen, kennis en ervaring zijn in Corona waardeloos geworden'
Dus geef ik je de tip die we al vanaf het begin af aan bij de start van ons 'Digital leadership programma' aan kandidaten geven: besteed je kostbare tijd, geld en energie niet aan dingen waar je als je wilt overleven niets hebt. Dus schrap:
Wining and dining business school programma's;
Corporate leadership programma's;
Corporate managementboeken;
Dure corporate management sprekers;
Zinloze 'Lean' en 'Agile'opleidingen;
Zinloze corporate outplacement programma's.
En zo kan ik nog wel even door gaan.
Ik ben daar na 1993 mee begonnen: het is de oude wereld van de 'dinsoauriers' en van 'Groeien moet'.
Ik zit al in de reddingsboot, en jij?
Dit is het tweede blog uit de serie blogs over 'Overlevingsstrategie voor corporates'.
Je kunt me ook vragen stellen via Skype: tony.de.bree of via het contactformulier hier. Maar klanten gaan voor.
Dus als je een van mijn boeken hebt gekocht of klant bent van een van onze blended learning programma's, meld dat dan even.
Nog een prettige dag.