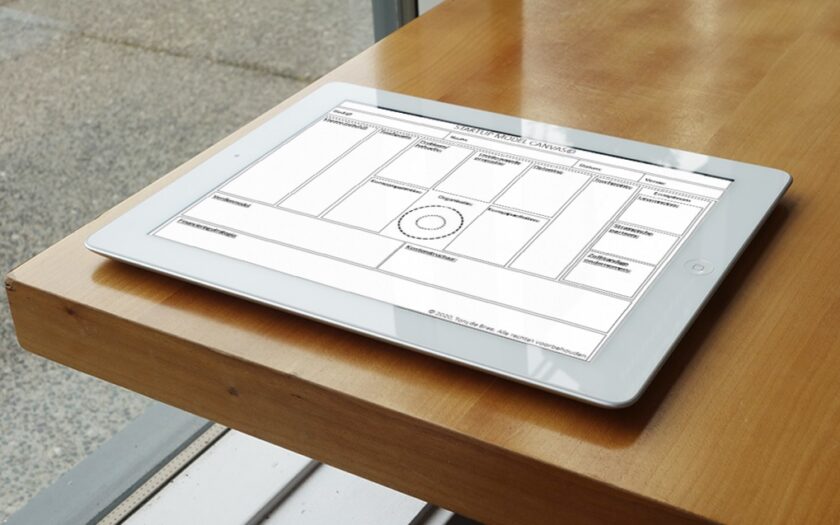 Goede morgen, snelheid is een van de belangrijkste criteria om succesvol een bedrijf te beginnen en om als startup of als MKB-bedrijf deze Coronacrisis te kunnen overleven en 'geld te verdienen in crisistijd'.
Dan heb je dus tools, hulpmiddelen, nodig die je helpen om snel analyses te maken en snel je business model, je verdienmodel, je organisatie en je unieke ecosysteem te analyseren en aan te passen waar nodig.
Daarom gebruiken nu steeds meer starters, startups en MKB-bedrijven verschillende versies van het startup model canvas© . 
Het startup model canvas© is
'een eenvoudig hulpmiddel waarmee je snel vanuit snel betalende klanten gezien en op basis van waar je zelf goed in bent en een uniek startup ecosysteem je startup of mkb bedrijf snel kunt starten of snel kunt aanpassen'  
Ik gebruik het zelf voor wat ik mijn ' virtuele eenmanszaak' noem sinds 2001 (zie hier), een voorbeeld een toepassing van het startup model canvas© dat in 'Overlevingstrategie voor startups' zowel in het boek (zie hier op Bol.com bv) als in de video tutorials uitgebreid wordt uitgelegd om je te helpen snel jou bestaande organisatie aan te passen of je nieuwe startup slim op te zetten.
Meer blogs over hoe je een nieuw bedrijf kunt starten of je bestaande startup of MKB-bedrijf snel kunt right sizen, kun je hier lezen.
Mvg
Tony de Bree
p.s.
Als je dringend 'overlevingsadvies' of andere hulp nodig hebt, maak dan een afspraak via 06-34387806 (whatsapp), Skype me via tony.de.bree of email me hier.