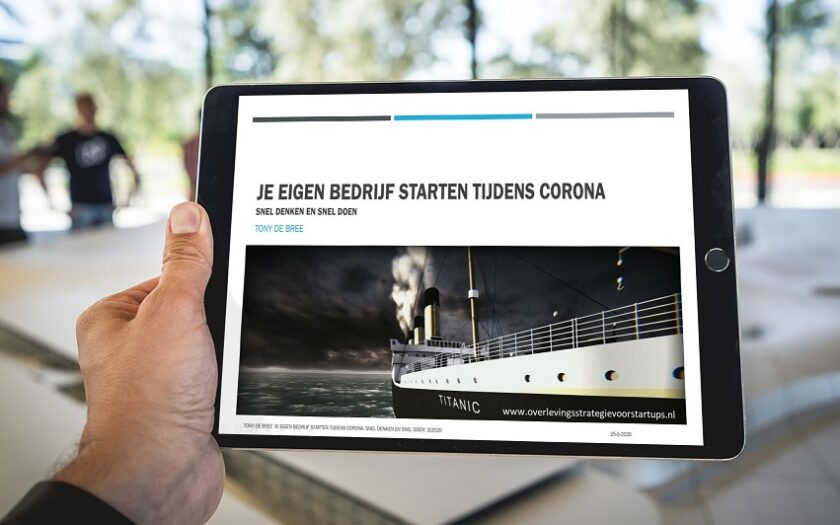 Goede middag,
de kop is er af! Vanmorgen goede masterclass 'Je eigen bedrijf beginnen tijdens Corona' voor de minor entrepreneurship van de Haagsche Hogeschool.
Uiteindelijk een 1 uur samen doorgebracht en hoewel het heel anders is dan als je met elkaar in EEN ruimte zit, was het toch op deze manier een goede ervaring als je de studenten op o.a. LinkedIn mag geloven.
De hoofdpunten waren:
Uitleg over de 'Titanic'.
Business plannen voor en tijdens Corona.
Verdienmodellen.
Bottom line (verdienmodellen, kostenstructuur en financieringsstrategie)
'revenue-based financing'
Huiswerk voor 8 juni.
Wel in Startup Model Canvas©, niet in Business Model Canvas (BMC).
Aangezien een aantal belangrijke elementen van het Startup Model Canvas© dat in 'Overlevingsstrategie voor startups' wordt gebruikt (wat gebruikers als een van de nieuwe startup canvassen kunnen downloaden) en waar ze les in krijgen), niet in Business Model Canvas is opgenomen, is niet alles uit deze masterclass 1 op 1 te gebruiken in hun business plan (De Haagse Hogeschool gebruikt BMC in deze minor) hebben ze er zo te horen toch veel aan gehad. Prima toch?
In de volgende blogs zal ik je nog wat meer vertellen over 'Overlevingsstrategie voor startups' en hoe jij dit actie-boek, werkboek kunt gebruiken als oprichter van een startup, als startup coach, als startup adviseur of als docent in het hoger onderwijs. Bookmark die blogs hier.
Tony de Bree
p.s. Omdat het een overlevingsgids moest zijn en geen 'managementboek', is de inhoud beperkt tot die 5 stappen. Alle andere thema's zoals of jij geschikt bent ja of nee en de samenstelling van je startup-team kun je vinden in 'Kan het vliegen?'.