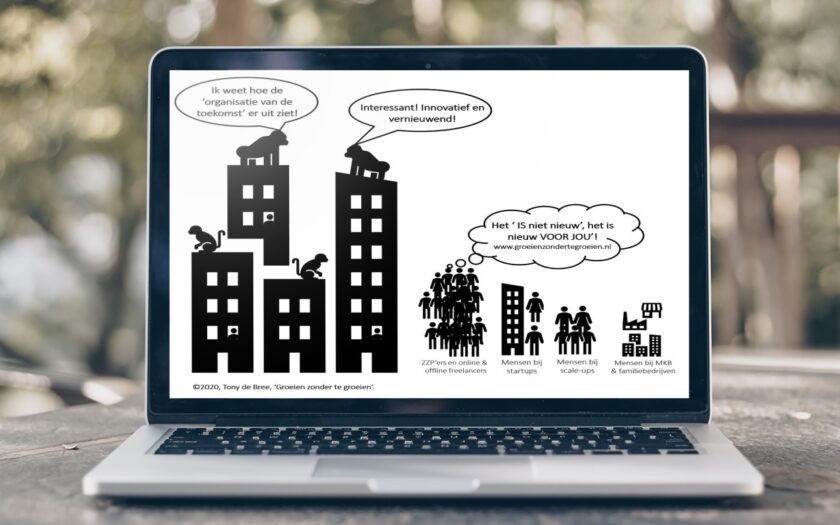 Updated: September 30, 2023
Goede middag,
veel professoren op universiteiten, organisatieadviseurs en verandermanagers hebben het sinds het begin van de Corona-crisis weer voortdurend over 'de organisatie van de toekomst'.
Daarbij heeft men het over 'nieuwe organisatievormen die kunnen gaan ontstaan' en ze lichten daarbij hun visie toe.
Het interessante is dat zij zaken en trends bekijken vanuit de grote, oude 'grote organisatie wereld', de oude wereld van de grote traditionele hierarchische organisaties. De werkelijkheid is echter:
'Die nieuwe organisatievormen bestaan al lang, heren professoren, corporate organisatieadviseurs en corporate verandermanagers'.
Namelijk de netwerk organisatie of de 'virtuele organisatie' zoals Jay Galbraith het al rond 1993 noemde! Als ze om zich heen zouden kijken in plaats van alleen naar de corporates en de grote Overheidsinstellingen maar naar de organisaties van veel zelfstandige ondernemers zoals zzp'ers, startups, scale-ups, dan zouden ze al lang hebben gezien dat die bedrijven klein zijn en klein blijven met behulp van ICT: een klein kernteam met een aantal verschillende flexibele schillen er om heen.
Een mooi voorbeeld is wat ik in 'Overlevingsstrategie voor startups' 'De virtuele eenmanszaak' (zie ook het ingevuld startup model canvas(c) van dat business en verdienmodel).
Elke ochtend onderneem ik, na een korte en constructieve vergadering met mijzelf in 'mijn virtuele eenmanszaak' met leveranciers, strategische partners en zelfstandige ondernemers lokaal of wereldwijd in mijn eigen unieke ecosysteem. Ik ben veel productiever in veel minder tijd dan ooit tevoren: geen tonnen e-mails, geen tenenkrommende vergaderingen op kantoor of online zonder agenda. Heerlijk: een hogere productiviteit en veel minder ongezonde stress.
En dat doen alle slimme bedrijven in de wereld van de online platform economie. Ze beconcurreren elkaar met hun unieke ecosysteem en hun relationship capital in plaats van met hun 'eigen' human capital. Als die flexibele netwerkbedrijven nu moeten rightsizen, dan passen ze hun virtuele organisatie gewoon snel aan. Simpel toch?
Nog een prettige dag,
Tony de Bree