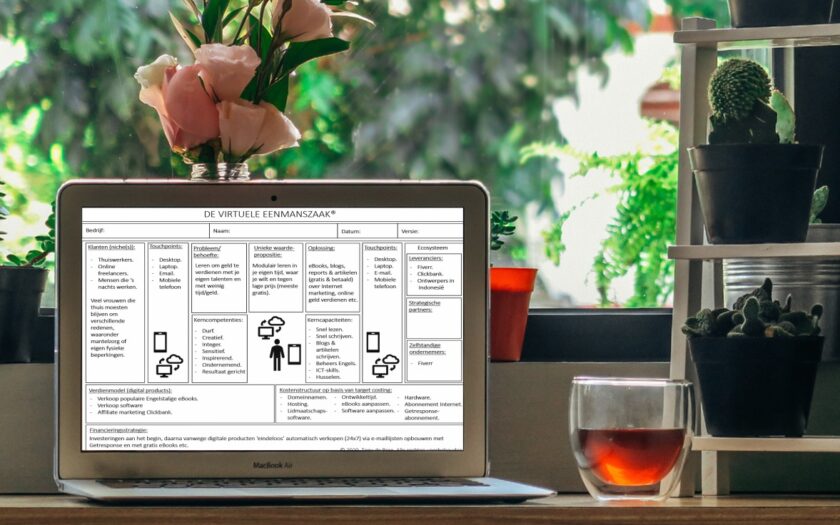 Updated: September 30, 2023
Goede morgen,
veel zzp'ers zijn juridisch gezien een eenmanszaak, maar daarnaast zijn veel van die zzp'ers met een eenmanszaak eigenlijk een virtuele eenmanszaak.  
In 'Overlevingsstrategie voor startups' heb ik expres een uitgewerkt voorbeeld met snel betalende klanten centraal gezet terwijl je geen vasts personeel in dienst hebt, zelfstandig ondernemer bent meteen eenmanszaak, maar gebruikt maakt van verschillende flexibele schillen van lokale en internationale (online) leveranciers, strategische partners en freelancers. 
In het voorbeeld zie je in het canvas met 'de virtuele eenmanszaak' een mooi voorbeeld van het combineren van een aantal verschillende inkomstenstromen in je online verdienmodel in plaats van 1 zoals je vaak leert.
Lees ook: 'Geld verdienen met de virtuele eenmanszaak'
Daarnaast laat het voorbeeld van het aanbieden van online services en digitale producten zoals eBooks niet veel investeringen met zich meebrengt en dat je niet veel startup-kosten noch operationele kosten hoeft te maken voor een succesvolle virtuele eenmanszaak. 
Meer blogs, diensten en digitale producten rond 'Overlevingsstrategie voor startups' en hoe je de kans dat je als startup of als starter Corona overleeft en er beter uitkomt, kun je hier lezen.
Tony de Bree
p.s. Als je als zzp'er of als oprichter van een startup online geld wilt verdienen en je hebt 'Geld verdienen met jezelf' aangeschaft, dan heb je samen met 'Overlevingsstrategie voor startups' alles wat je nodig hebt trouwens als compleet zelfstudiepakket. Inclusief checklists en canvassen.