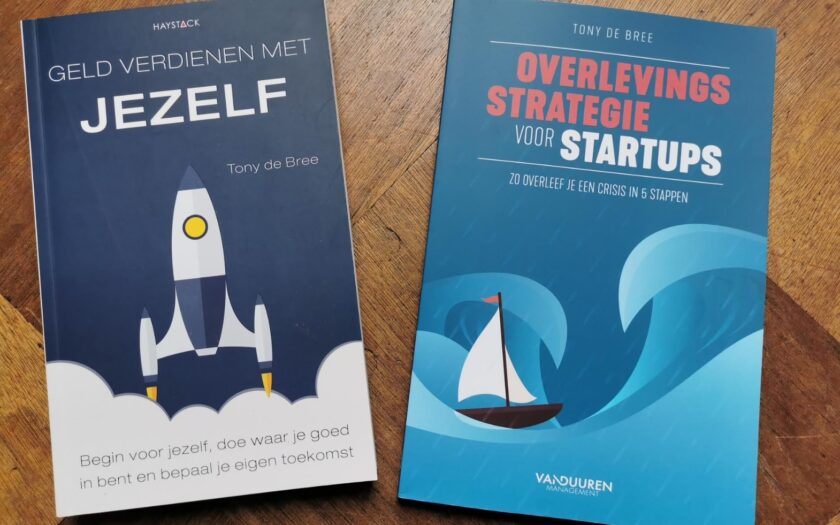 Goede morgen. In 2001 begon ik naast mijn vaste baan bij Corporate IT Strategy van ABN Amro toen ik veel met high-tech startups werkt, met mijn eigen 'plan b' met mijn eigen virtuele eenmanszaak.
Nadat mijn eigen offline inkomsten net als bij veel zelfstandige onnernemers aan het begin van de Corona-crisis wegvielen, ben ik me weer vol gaan richten op dat oude 'plan b', door online geld te zoals ik toen met succes met digital products en software had gedaan, aangevuld met nieuwe online diensten.
De vraag is: wat moet jij nu doen? Het antwoord is simpel: bestel nu het doe-het-zelf-leerpakket 'De virtuele eenmanszaak' voor 47 Euro in totaal.
Het 'virtuele eenmanszaak' doe het zelf lespakket (47 Euro)
In dit doe-het-zelf lespakket zit:
2 doe-het-zelf boeken.
Gratis formulieren.
Gratis startup model canvassen en het uitgewerkte voorbeeld van mijn 'De virtuele eenmanszaak' canvas.
Gratis checklists.
Gratis tutorial video's.
Hoe je dat doet?
Je schaft 'Geld verdienen met je zelf' aan bij bol.com of managementboek.nl of ergens anders.
Je schaft 'Overlevingsstrategie voor startups' aan bij managementboek.nl of bij Bol.com bv
En je begint morgen!
Bonus: als je me een foto van jezelf met een van de boeken stuurt, krijg je ook nog 1 uur gratis feedback!
Meer weten? Neem even contact op met me via Skype tony.de.bree of via linkedin hier met een pm.
Tony de Bree
p.s. Als je als zzp'er online geld wilt verdienen en je hebt 'Geld verdienen met jezelf' aangeschaft, dan heb je samen met 'Overlevingsstrategie voor startups' alles wat je nodig hebt trouwens.