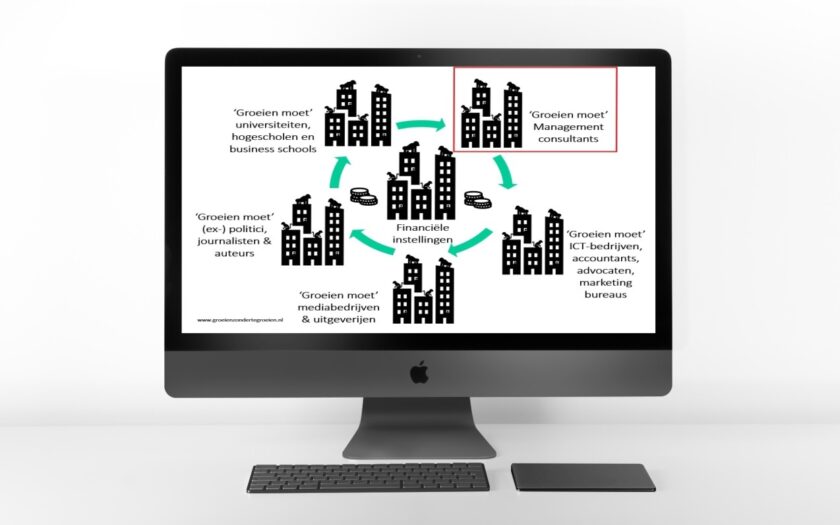 Morgen,
een van de belangijkste aspecten van de Corona-crisis is dat je jezelf moet afvragen of je eigen kennis en die van je adviseurs nog relevant is in de huidige situatie. In veel gevallen is het namelijk zo dat b.v. veel van je 'oude normaal economie' kennis niet meer relevant is in de context van de huidige tijd en de huidige problemen.
En dat geldt zeker voor management consultants van grote 'groeien moet' management adviesbureaus. Toen ik tijdens met executive MBA les kreeg van een van de collega's van de strategie gurus Prahalad & Hamel, Maurice Saias, legde hij al uit dat je strategiemodellen en methoden in de context van de tijd moet zien. Hij legde dus al uit waarom het portefeuille model van de Boston Consulting Group en het 5 forces strategiemodel van Michael Porter niet meer bruikbaar waren. Dat is niet erg, that's life. Maar waarom gebruiken management consultants die modellen dan nu nog steeds?
De kennis van 'groeien moet' management consultants' is irrelevant geworden.
Een ander mooi voorbeeld zijn de uitgangspunten van de management consultants van de bekende grote 'groeien moet' management consultancy-bedrijven. Hun kennis en de 'groeien moet' methoden en technieken zoals 'kostenbesparen', 'Lean', 'Agile' en 'downsizen' zijn onbruikbaar en dus irrelevant voor hun klanten in deze situatie zoals ik nu bij veel van mijn eigen klanten merk. Waarom? Die kennis is gebaseerd op:
De oude economie principes van fysieke grondstoffen uit de Industriele revolutie terwijl we in de digitale economie leven.
De principes van de 'Groeien moet' economie.
Het idee dat er zo iets is als 'eeuwige groei'.
De mythe dat je extern moet financieren.
De mythe dat je moet groeien & schalen.
De mythe dat je persoonlijk steeds meer geld moet verdienen.
De mythe dat je schulden moet maken.
Meer: 'Groeien zonder te groeien: je moet helemaal niets tenzij je het zelf wilt', 'Waarom 'Groeien zonder te groeien. Succesvol ondernemen in de betekeniseconomie" en 'Wat is de betekeniseconomie?'
Bovendien zitten moeten we een overlevingsstrategie voor Nederland opstellen en die snel uitvoeren. En daar heb je hele andere modellen, methoden en technieken voor nodig. Het moet bv snel.
'Groeien zonder te groeien' als praktisch & duurzaam alternatief.
We noemen dat 'Groeien zonder te groeien' met behulp van ICT, met je eigen versie van een minimalistische levenswijze en als minimalistisch ondernemer online en offline met een lean and mean virtuele organisatie met 3 lagen.
Als deze benadering je aanspreekt en je wilt concrete voorbeelden zien hoe succesvolle MKB-bedrijven en veel zelfstandige ondernemers dat zelfs tijdens corona doen online doen, bekijk dan deze blogs, volg me dan op Linkedin en deel jouw businessverhaal en jouw kennis en ervaring rond succesvol duurzaam ondernemen.
Nog een prettige dag,
Tony de Bree