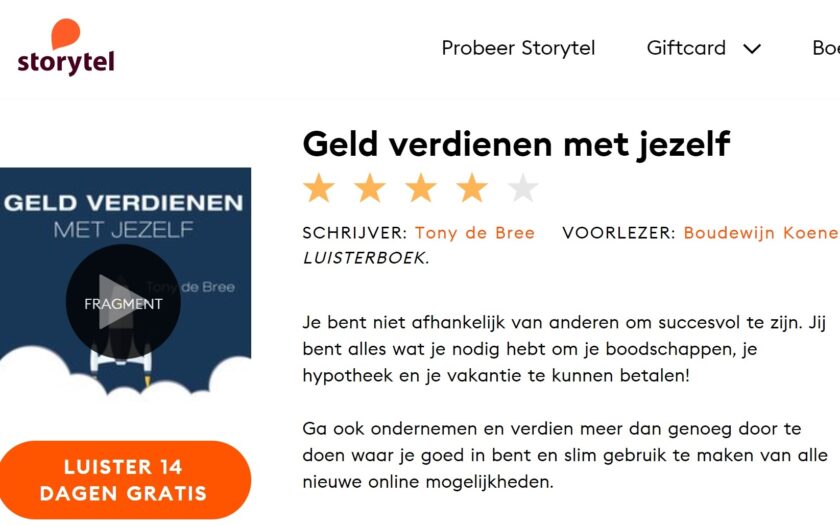 Goede middag,
door de Corona-crisis wordt geld verdienen met je eigen kennis vanuit huis en online steeds belangrijker voor veel ondernemers en voor mensen die hun baan verliezen.
Daarom ben ik super blij dat 'Geld verdienen met jezelf' waarvan ik de tekst heb aangepast en waardoor de inhoud nu weer relevant is, nu ook beschikbaar is als luisterboek via Storytel. Deze keer niet door mijzelf ingesproken trouwens. 
Meer: 'Wat moet jij met leven lang leren in deze crisis?', 'Hoe kies je de beste coaching in crisistijd voor jou persoonlijk?' of   'Wat is relevant leven lang leren?'
Een persoonlijke right-skilling plan en future skills.
Onder deskundige begeleiding heb ik wel inmiddels dus geleerd hoe je een audioboek moet inspreken met 'Overlevingsstrategie voor startups' (zie hier) en wat je moet doen om een 'gewoon' boek daarvoor geschikt te maken. Een mooi voorbeeld van persoonlijk re-skillen dus op basis van mijn eigen persoonlijke right-skilling plan  waaronder vooral ook future online skills.  
Meer weten over jouw persoonlijk right-skilling plan? 
Wil je meer weten over waar voor jou de beste kansen liggen om je persoonlijk gericht bij te scholen met een persoonlijk righ-skilling plan inclusief future online skills, bel me dan op 06-34387806 of WhatsApp me eerst even, ok?
Mvg
Tony de Bree