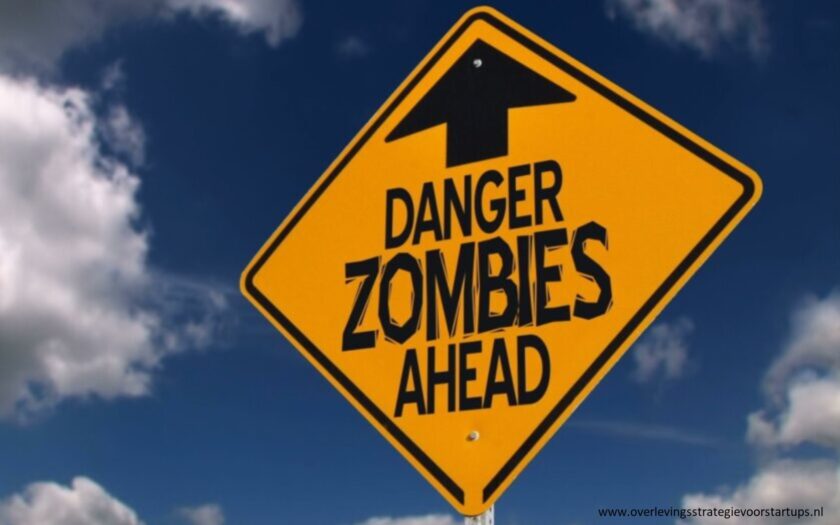 Goede morgen,
voor de crisis waren er in Nederland al veel financiele 'zombiebedrijven', maar sinds het begin van de crisis en gedeeltelijk ten gevolge van de Steunpakketten, is het aantal zombiebedrijven waarschijnlijk nog toegenomen.
Wat dat zijn 'zombiebedrijven'?
Definitie (zie hier):
'Zombiebedrijven zijn bedrijven waarvan de winst van de betrokken ondernemingen gelijk is aan of lager dan de rentebetalingen – laat staan de aflossingsverplichtingen'.
Praktisch gezien betekent het dat de kasstromen van deonderneming, of dat nu een groot bedrijf is of een MKB-bedrijf, onvoldoende om levensvatbaar door te kunnen gaan.
Voor de crisis konden deze startups gaan vliegen en blijven groeien door goedkope bedrijfsleningen met lage rentes, door innovatiesubsidies van de Overheid en door investeringen van corporate venture afdelingen en van particuliere investeerders.
Door de crisis is een aantal van die startups en scale-ups in grote financiele problemen geraakt waaronder een aantal van mijn huidige high-tech en impact scale-up klanten die me in paniek opbellen. Waarom?
Omdat de verstrekkers van het vreemde vermogen of de kraan dicht draaiden of zelfs hun leningen terug wilden hebben.
Steunpakketten en zombiebedrijven.
Of het aantal zombiebedrijven waaronder 'zombistartups' en 'zombiescale-ups' tijdens de crisis is toegenomen of niet is niet te zeggen. Aangezien de Overheid in de verschillende regelingen haalbaarheid en levensvatbaarheid maar beperkt mee kan nemen in veel gevallen, zit de kans er dik in dat de steun ook naar zombiebedrijven is gegaan en nog steeds gaat.
Daarom is het ook belangrijk om bij stap 2 van het 5-stappenplan van de 'overlevingsstrategie voor startups' ook goed naar de verschillende onderdelen van je startup model canvas of scale-up model canvas te kijken om te zien of jouw bedrijf ook een zombiebedrijf is.
Hoe je dat doet leg ik je in een nieuwe Tutorial die 25 juni uitkomt naast de checklist over 'hoe financier ik mijn startup' die je al krijgt bij dit 'noodpakket voor startups', uit als onderdeel van 'bedrijfsfinanciering 2.0'.
En als je meer wilt weten over hoe je je startup kunt financieren vanaf het begin, lees dan hoofdstuk 7 van 'Kan het vliegen?'.
Mvg
Tony de Bree
p.s.
Als je dringend 'overlevingsadvies' of andere hulp nodig hebt, maak dan een afspraak via 06-34387806 (whatsapp), Skype me via tony.de.bree of email me hier.