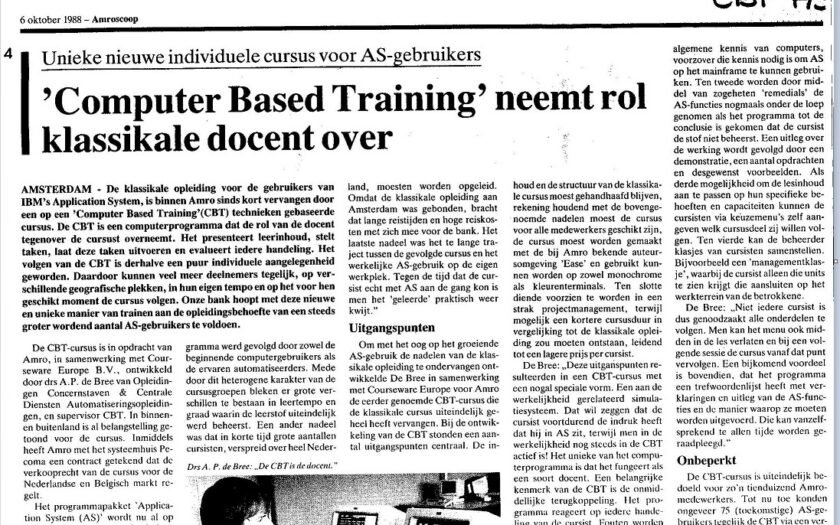 Hallo,
op 6 oktober 1988 verscheen er in de Amroscoop, het interne blad voor managers en medewerkers van de voormalige Amro bank, een artikel met als titel:
'Computer Based Training' neemt rol klassikale docent over'. 
De ondertitel was
'unieke individuele cursus voor AS-gebruikers'. 
De kern van het artikel en van het programma waar ik programmamanager bij 'sector-c' (de ICT-divisie van de Amro Bank wereldwijd) verantwoordelijk voor was, was wat dat de klassikale opleiding voor de gebruikers van IBM's Application System, binnen Amro werden vervangen door een modulaire Computer Based Training voor dit ICT-onderwijs op grote schaal (uiteindelijke bedoeld voor zo'n 10.000 Amro-medewerkers'). 
Een 2e belangrijk onderdeel van mijn opdracht als programma manager Computer Based Training bij 'sector-c' (de ICT-divisie van de Amro Bank wereldwijd) was een groot gedeelte van de tot op dat moment meerdaagse interne en externe klassikale trainingen voor ICT-professionals, vervangen door modulaire, individuele trainingen in het Engels die iedere medewerker of op zijn of haar werkplek, in regionale opleidingscentra en op de eigen desktop computer 7 dagen per week, 24 uur per dag invidueel kon volgen. 
En het 3e onderdeel was het collega's bij Training & Development Sector-C helpen om bij het ontwerpen van nieuwe opleidingsprogramma's inclusief om- en bijscholings programma's rond ICT te onderzoeken op basis van het type leerdoelen, welke werkvormen toegepast dienden te worden waarbij alleen die leerdoelen die didactische gezien in groepen gehaald konden worden in groepen werden georganiseerd.
Terwijl alle andere leerdoelen in principe individueel gehaald zouden moeten worden met ondersteuning van face-to-face-coaching (online & offline). 
Per modulaire 'blended learning' ICT-opleiding konden dus zelfstudiemateriaal, opdrachten en eLearning in de vorm van Tutorials, simulaties,  opdrachten en individuele evaluatie van die opdrachten waarmee men oefende met een gesimuleerd systeem (zoals in bovengenoemd geval) onderdeel uitmaken van het totale onderwijspakket. 
Uiteindelijk ben ik tot 1993 full time met dit soort redesign en nieuwbouw trajecten bezig geweest en heb ik dat sinds 2011 weer opgepakt in de vorm van o.a. blended learning opleidingen voor 'digital leadership', 'Entrepreneurship'  en in combinatie met mijn 'doe-het-zelf pakketten' voor ondernemers waaronder het pakket rond 'Overlevingsstrategie voor startups'.  
Meer blogs & tips over ICT & onderwijs kun je  hier lezen, als je meer te weten wilt komen over onderwijsvernieuwing in het hoger onderwijs, bookmark dan deze blogs lezen en als je tenslotte meer wilt wilt over online leren voor ondernemers, houd dan deze blogs in de gaten.  
Wil je meer weten over hoe je je huidige programma met diverse leeractiviteiten bij jouw ICT onderwijs of Entrepreneurship kunt herontwerpen naar zoveel mogelijk individeel leren, neem dan nu contact met me op via Skype tony.de.bree. Of door me te bellen/te whatsappen op 06-34387806. 
Mvg
Tony de Bree