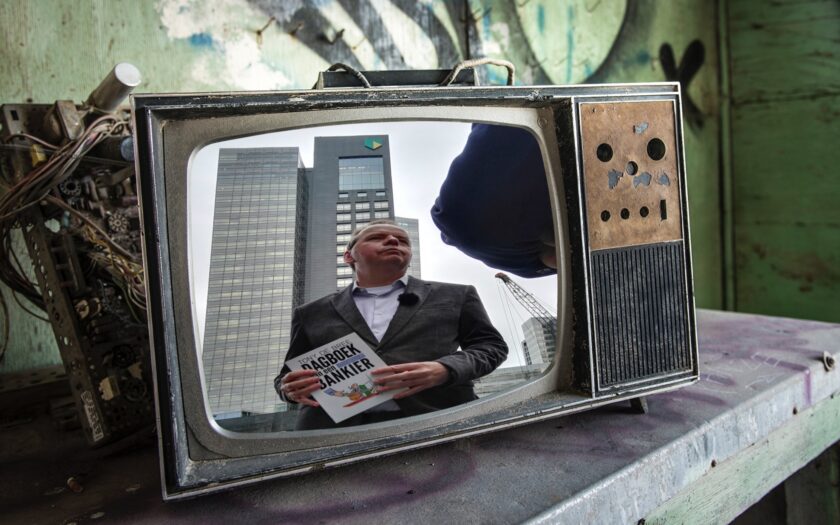 Goede morgen, op mij verjaardag vandaag las ik 'Heeft ABN Amro als krimpbank wel toekomst' de Volkskrant van Peter de Waard
Omdat mijn vrouw nog slaapt, toch maar even inhoudelijk reageren. Het artikel van Peter de Waard is een typisch voorbeeld van het oude 'Groeien moet' denken en economy-of-scale denken dat er niet alleen is ingeramd op ouderwetse business schools als Nyenrode Business University maar ook bij de economieredacties van grote kranten als de Volkskrant, NRC Media en De Telegraaf.
Nog EEN keer dan:
'ER ZIJN GEEN SCHAALVOORDELEN IN (FINANCIELE) DIENSTEN NOCH IN DIGITALE PRODUCTEN'.
Peter gaat net als veel van de andere salon-journalisten (sorrie, maar dat zijn ze wel, ze maken namelijk gewoon deel uit van de 'Groeien moet' industrie van o.a. de grootabnken zelf) voorbij aan het echte probleem van corporates waaronder grootbanken als ABN AMRO Bank N.V. en dat zijn veel te hoge niet-noodzakelijke interne kosten van o.a. het hoofdkantoor, oude ICT-systemen, een verkeerde strategie, namelijk dat van het portefeuille model van BCG en mismanagement.
Een van de hoofdverantwoordelijken voor de huidige situatie bij ABN Amro is Wouter Bos. Hij heeft gigantisch veel geld in de redding van mijn ex-werkgever gestopt zonder aandacht te geven aan de echte problemen van de bank met 'de prooi' als 'handboek soldaat' zoals hij zelf meldde.
Zoals een van de nieuwe leden van de door Zalm benoemde leden van de RvB tegen me zei in 2008: 'JULLIE hebben er een zootje van gemaakt, en wij gaan het heel anders doen'. Tja, we kunnen allemaal zien wat het resultaat is sindsdien.
Wat is er sindsdien gebeurt?
De ICT-problemen zijn niet opgelost;
Men heeft massaal ervaren 45+ mensen ontslagen en onervaren goedkope jonge mensen aangenomen;
de bank heeft het ene Compliance probleem na het andere waardoor men kapitalen kwijt is aan het repareren van KYC-files die ik tijdens de splitsing met onze teams heb gerepareerd t/m 2011;
en er is nog steeds een enorm waterhoofd aan overhead van veel te duur management en veel te veel mensen in 'de concrete sandwich'.
En men laat klanten nog steeds opdraaien voor de veel te hoge interne kosten, klanten die niet weg kunnen (hypotheken, langlopende bedrijfsleningen).
Als @peter de waard echt verstand zou zijn van economie en financien zou hij begrijpen dat door het gehanteerde interne kosten systeem van integrale kostenberekening, de een na de andere business unit niet meer winstgevend is omdat die de overheadkosten niet meer terug kan betalen. Iets dat door mijn echte 'finance'profesoren in Amerika al in 1995 werd uitgelegd:
"De business units kunnen door de enorme overheadkosten van het hoofdkantoor en de Compliance geen winst maken en worden 'dus verkocht".
Je hoeft toch geen wiskunde te hebben gestudeerd om te begrijpen dat als je je vaste kosten constant houdt en steeds minder BU's moeten dat betalen, dat het dan verkeerd gaat, toch?
We noemen dat al sinds het begin van de jaren'90 'the negative influence of the parent'.
Dat verklaart ook waarom Adyen goed draait en ABN Amro en andere grootbanken niet: oude ICT-systemen, 'kapiteins van de Titanic' en veel te hoge overheadkosten. Net als bij KLM trouwens.
Als men de moeite had genomen om het laatste hoofdstuk uit 'Dagboek van een bankier' te lezen, had men het toen al geweten. Maar het is leuker om 'de prooi' eindeloos rond te pompen en een nieuw boek over '@Abn Amro, 'De Staatsbank' te schrijven.
Uit de laatste zin van Peter de Waard blijkt dat hij er inderdaad echt niets van heeft begrepen: 'een snack wordt nog sneller opgepeuzeld dan een reus op lemen voeten'.
Peter, die wereld van 'economies-of-scale' is al lang voorbij, namelijk toen alles digitaal werd. ABN Amro had juist een hele winstgevende kleinere bank kunnen worden, een soort Adyen, als Wouter Bos datgene had gedaan wat hij had moeten doen in plaats van zijn oude baas Gerrit Zalm benoemen en de echte problemen had laten aanpakken.
Hoekstra stelt nu wel voorwaarden, Bos vertrouwde op 'de prooi' en heeft op grote schaal belastinggeld weggegooid. Dat is de realiteit.
Succesvolle bedrijven kunnen juist 'groeien zonder te groeien' met behulp van ICT en met hele andere ondernemers aan het hoofd. Ik zou zeggen 'slaap zacht'.
Mensen die nu nog die oude wereld geloven en daaraan vasthouden hebben een probleem.
Tony de Bree