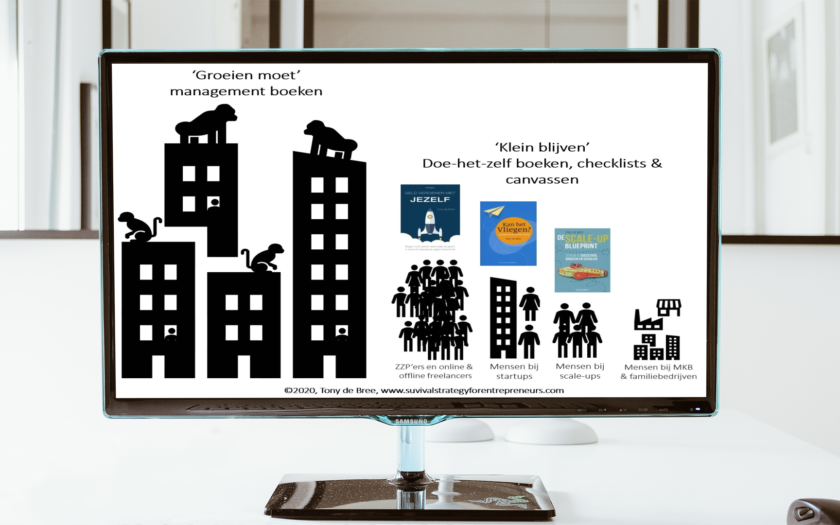 Introductie.
Goede morgen, hoe gaat het er mee?
Veel zelfstandige ondernemers hebben het moeilijk en er wordt veel van de Overheid en allerlei steunmaatregelen verwacht. Je kunt afwachten of je kunt zelf in actie komen om snel je kosten terug te brengen en vooral snel inkomsten te genereren.
Boeken kunnen daar een belangrijke rol bijspelen. Maar welke boeken moet je dan als zelfstandige ondernemer nu kopen? Als zzp'er, oprichter van een startup of CEO van een scale-up?
Wat mij betreft is het antwoord heel simpel: dus geen 'groeien moet' boeken
zoals over 'Lean' en 'Agile' en 'Lean startup' en Business Model Canvas (BMC)'. Daar schiet je nu absoluut niets mee op.
Wat dan wel? Mijn tip: ik koop al heel lang 'klein blijven' boeken.
Ondernemers die met hun eigen kleine team en grote flexibele schillen er om heen in een 'virtuele organisatie' werken zoals ik al sinds 2001 in deeltijd en sinds 2011 full-time doe.
Mijn eerste favoriet was de 4-urige werkweek en een andere waar ik veel aan heb gehad is 'The 100$ startup'. En daarom heb ik vervolgens 'Geld verdienen met jezelf', 'Kan het vliegen?', 'De scale-up blueprint' en 'Overlevingsstrategie voor startups' geschreven samen met succesvolle zelfstandige ondernemers. Succesvolle ondernemers, die allemaal 'klein blijven' met behulp van ICT. Met een klein kernteam en een of meerdere flexibele schillen er om heen. En er zijn er meer van 'visie gedreven' en 'verhaalgedreven' auteurs.
Mijn tip voor vandaag voor zelfstandige ondernemers is dus: koop 'Klein blijven boeken' om de 'Corona-crisis' te overleven en vergeet 'Lean', 'Agile', 'Lean Startup' en 'Business Model Canvas' (BMC). daar heb je als je aan het zinken bent niets aan…..
Als je vragen of verzoeken hebt, aarzel dan niet om me te bellen via Skype
op tony.de.bree of e-mail me hier.
Succes en houd je aan de 1,5 afstand, ok?