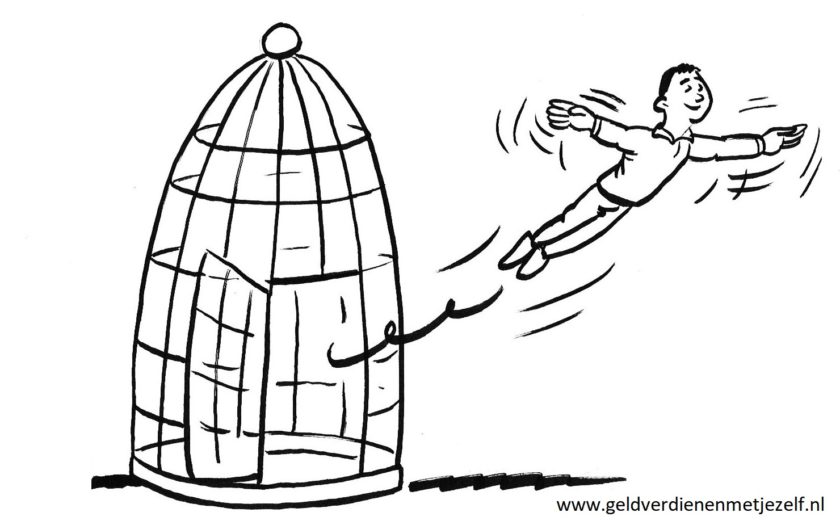 Updated: September 29, 2023
Goede morgen,
hoe je het ook draait of keert, de Corona-crisis en wat daarna gaat gebeuren zal er de komende jaren voor zorgen dat de 'vastebanenloosheid' alleen nog maar verder zal stijgen includief in de bancaire sector. Dit betekent dat het dus zowel voor manager als voor werknemer steeds belangrijker wordt om ervoor te zorgen dat je snel en met succes een carrière switch kunt maken. Dit blog geeft je daar wat eerste tips voor op basis van mijn eigen ervaringen sinds 2001 en vooral na 2011 toen ik ABN Amro definitief verliet (zie mijn LinkedIn-profiel).
Een van de grootste uitdagingen in het leven van een senior manager, leidinggevende of werknemer met een vaste baan in de bancaire sector is dat je van werknemer ondernemer moet worden zoals ik uit ervaring maar al te goed weet.
En die overgang is voor veel 'bankiers' niet eenvoudig. Zeker niet als je ook nog eens in het verleden verkeerde keuzes hebt gemaakt en in een gouden kooi terecht bent gekomen. Daarom volgen hier alvast 5 tips om stap-voor-stap uit je gouden kooi te komen en wel zo snel mogelijk.
1) Onderzoek je bestaande uitgaven.
Wat veel mensen zich niet realiseren is dat als je gewend bent aan een vast inkomen, je vaak allerlei uitgaven doet die onnodig zijn of die veel lager kunnen worden door gewoon beter te vergelijken en te shoppen. *
2) Zorg voor een leven naast je werk.
Als we het druk hebben overdag overkomt het veel mensen dat je eigenlijk niets of nauwelijks iets naast je vaste, drukke baan doet. Je raakt een beetje sociaal geïsoleerd. Probeer dat zoveel mogelijk te vermijden en vraag mensen om je heen om hulp daarbij.
3) Ga minder werken.
Je moet tijd en energie vrijmaken voor de overgang, voor je carrière plan b, voor je carrière switch. Je kunt geen start maken met een of meer bijbanen of nieuwe online of offline inkomstenstromen als je daar geen tijd en energie voor vrijmaakt. Doen dus.
4) Volg opleidingen die voor je onderneming van belang zijn.
je kunt tegenwoordig op veel verschillende manieren jezelf om- of bijscholen naast je vaste baan. Met e-books, online video, webinars en andere vormen van zelfstudie.
Ik zelf ben daar al in 2001 online mee begonnen. In de praktijk blijkt dat veel mensen te laat de knop omzetten, zelfs nu. Ze blijven opleidingen volgen die voor hun bestaande functie prima zijn, maar ze geen extra voordeel op de arbeidsmarkt (of liever gezegd 'de werkmarkt') opleveren. Mijn advies: let op en differentieer jezelf zo vroeg en zo snel mogelijk. En wacht niet totdat je in een reorganisatie terecht komt na de Corona-crisis.
5) Maak een lijst van je hobby's en je passies.
Hoewel je zou kunnen denken dat het onzin is om te denken dat je geld zou kunnen gaan verdienen in een bijbaan om later als zelfstandig ondernemer, is dat niet het geval. Dus het is slim om zo snel mogelijk een lijst te maken van je hobby's en van je passies om daar vervolgens dan ideeën uit te kunnen genereren voor verschillende nieuwe inkomstenstromen naast je vaste baan of na je vertrek.
Tot slot.
Tot zover deze concrete tips om alvast de eerste stappen te zetten om van medewerker ondernemer te worden en om uit je gouden kooi te komen. Heb je er wat aan? In hoofdstuk 2 van 'Geld verdienen met jezelf' staan nog veel meer tips, kun je een test doen om te zien of je op dit moment al de mentaliteit van een ondernemer hebt of toch nog meer die van een medewerker. En als klap op de vuurpijl leer je hoe je in 15 minuten je eerste online onderneming op kunt zetten om je eerste bescheiden nieuwe inkomsten te kunnen gaan genereren.
Als je aan een carriereswitch denkt en je hebt behoefte aan een persoonlijk opleidings- op loopbaanadvies, aarzel dan niet om me te bellen via Skype op tony.de.bree of e-mail me hier.
Succes en houd je aan de 1,5 afstand, ok?
Mvg
Tony de Bree